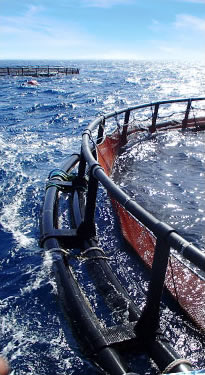 Qingdao Hariful cage Engineering Limited is a company specializing in high-tech enterprises cage farming equipment.
The company full use of its technological advantages, continue to strengthen product research and development. Uphold a high starting point, high-quality professional philosophy, abide by integrity, observe Connaught, the pursuit of quality, to improve the principle of service. We are committed to protecting the environment and sustainable development of marine aquaculture.
Company and Chinese Academy of Fishery Science and Technology, Yellow Sea Fisheries Research Institute, Ocean University of China in close cooperation to promote the development of marine aquaculture, mariculture improve the overall efficiency of joint efforts. The company is mainly engaged in the shallow sea cages, large deep-sea anti-wave cage, inland lakes and small cages, marine leisure development platform and yachts floating dock, processing, marketing and technical advice; the drug culture, aquatic feed research and development and sales. We can provide customers with design manufacture, solid poise full-service design and installation.